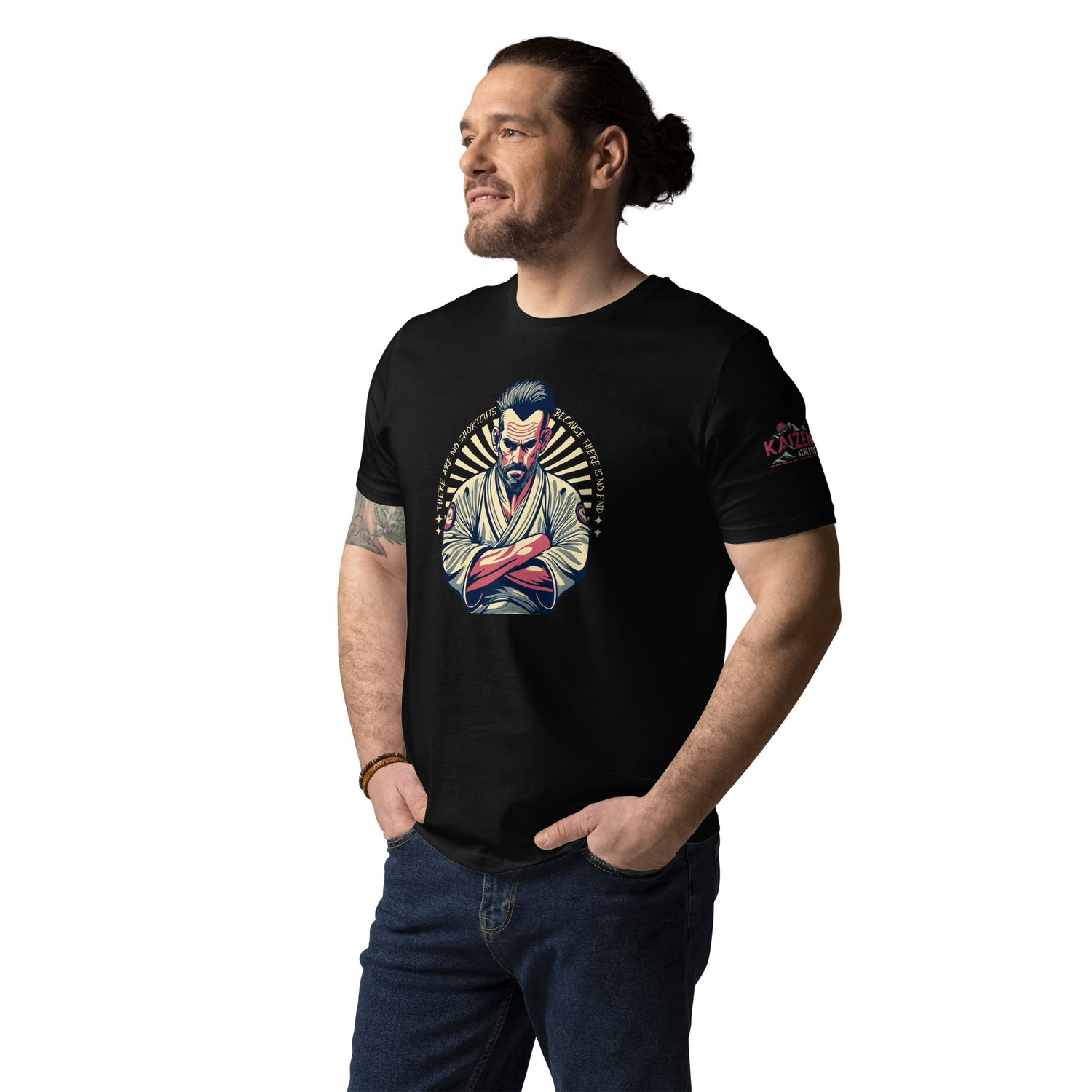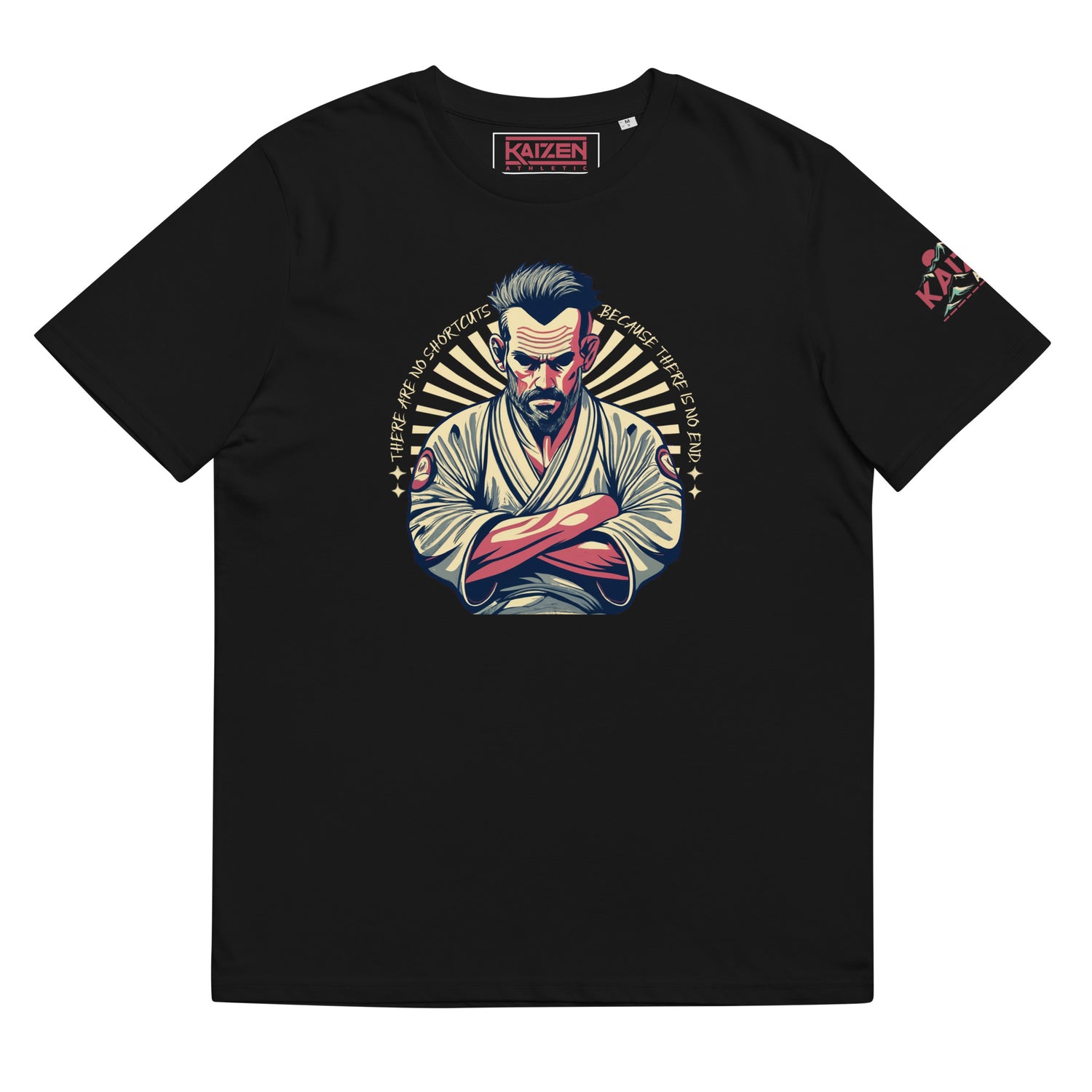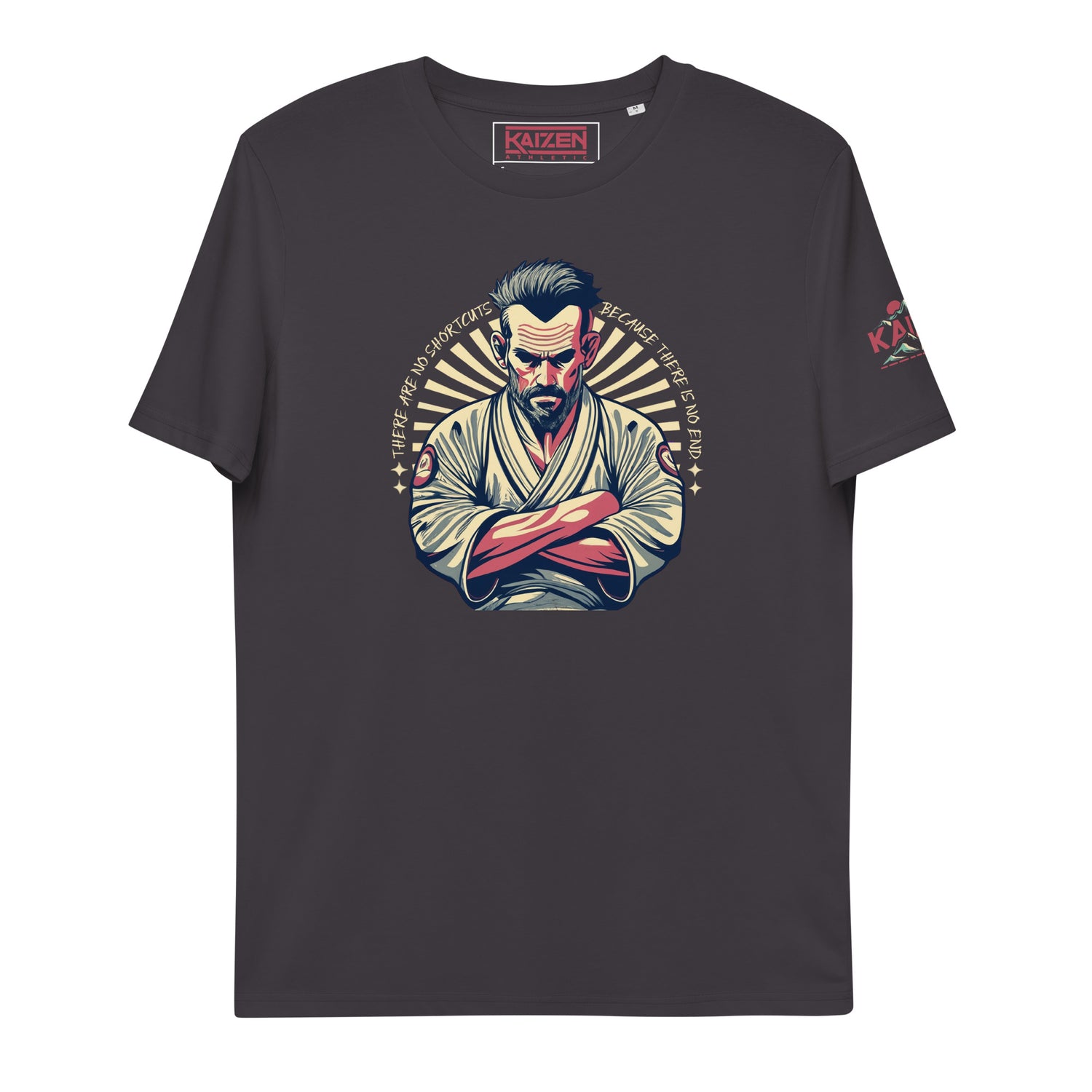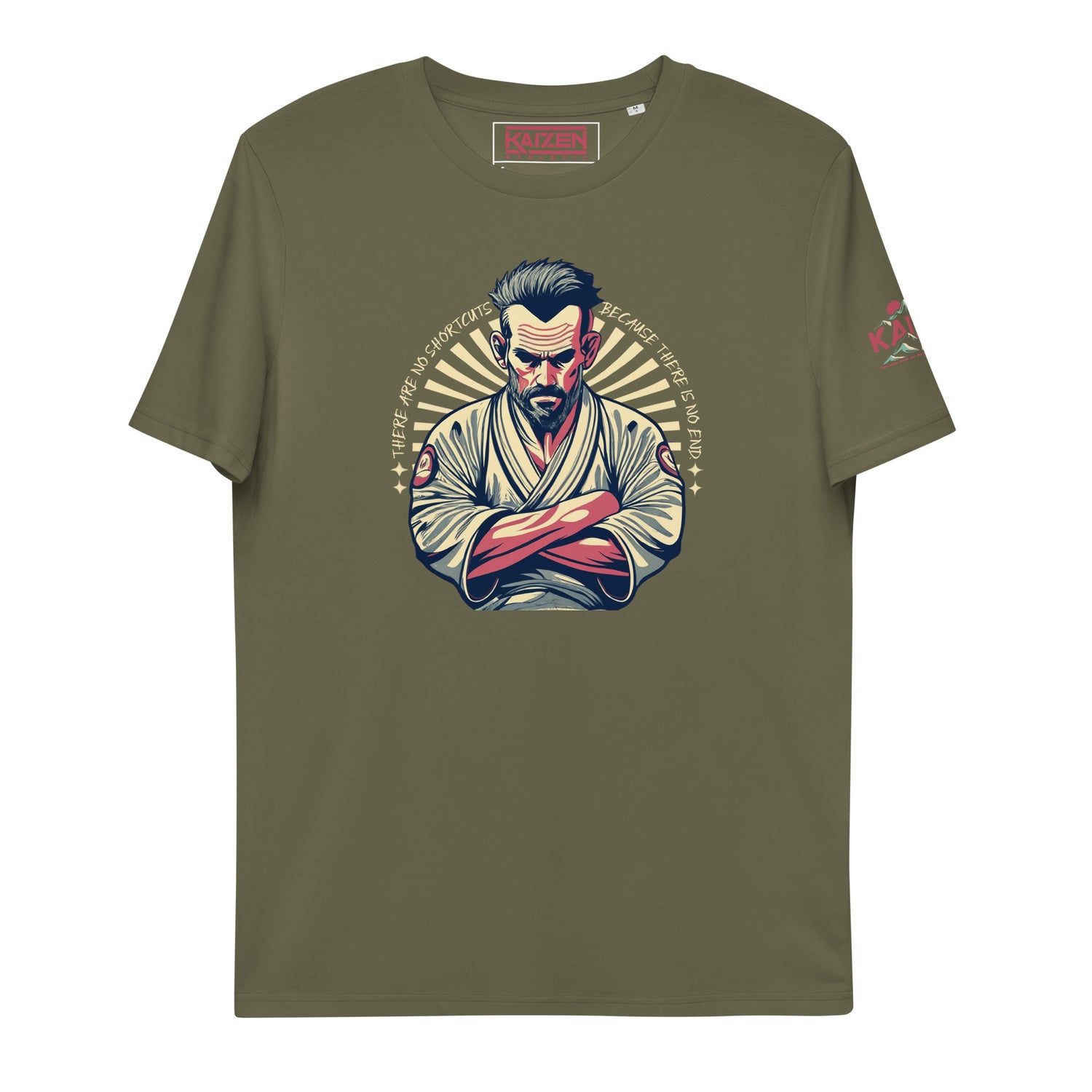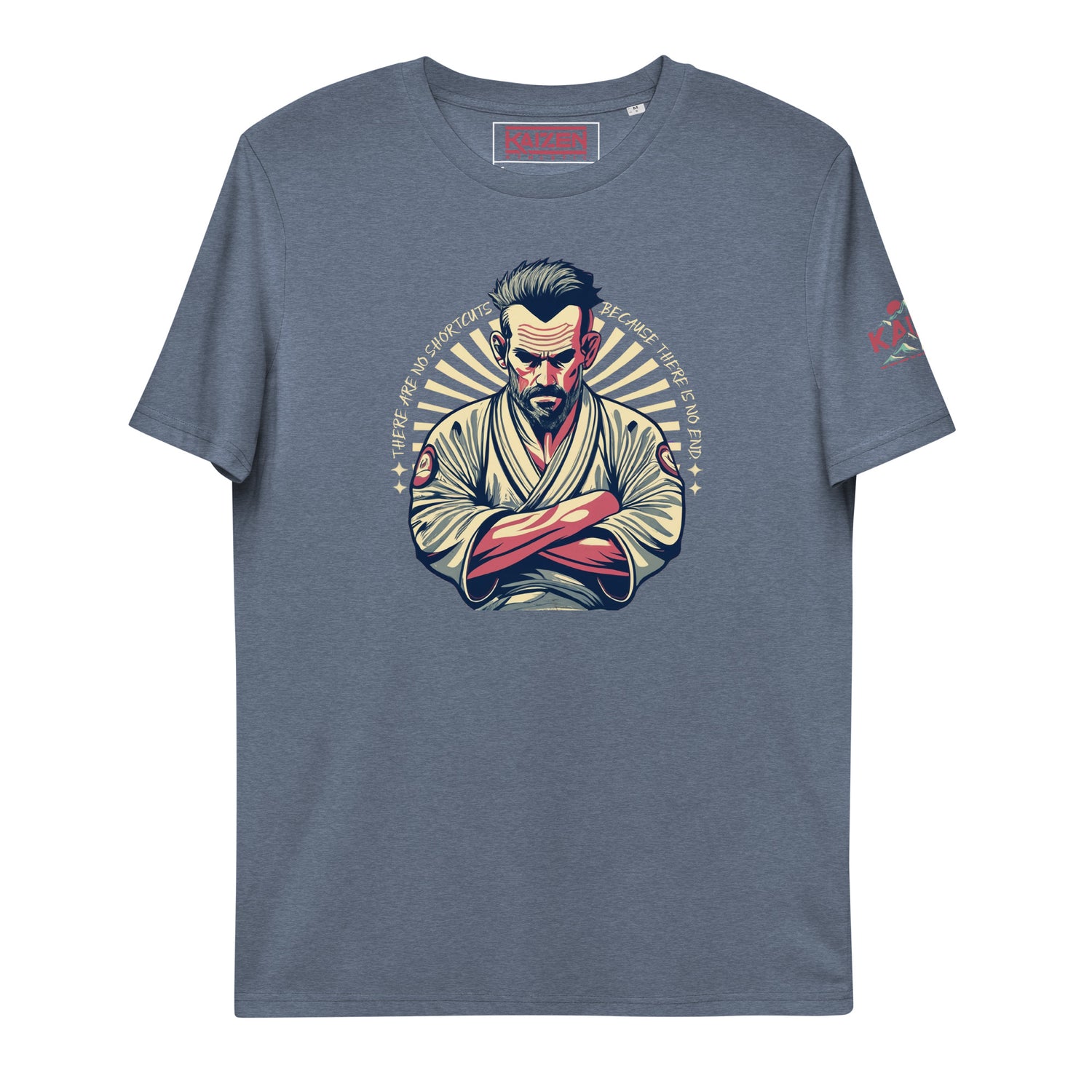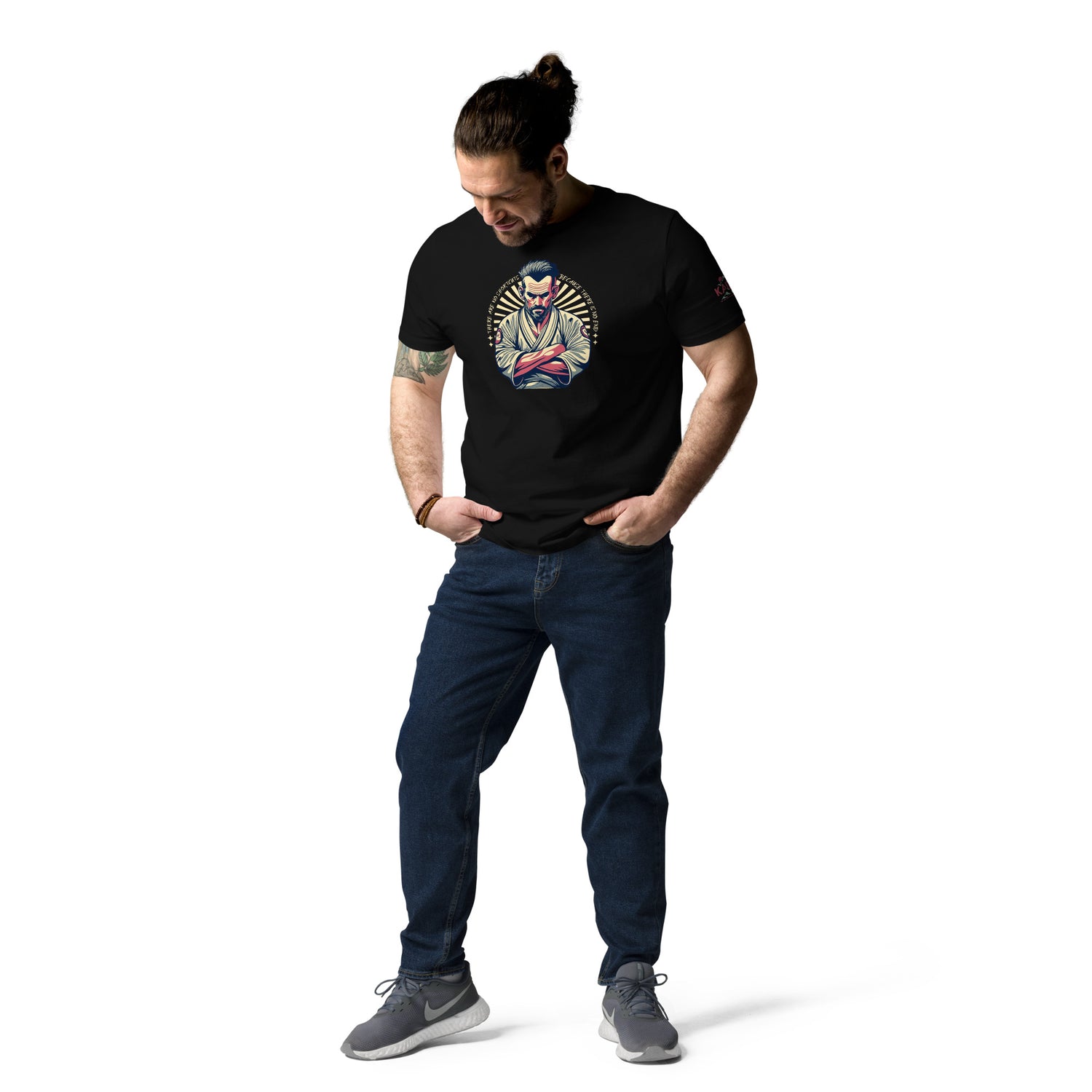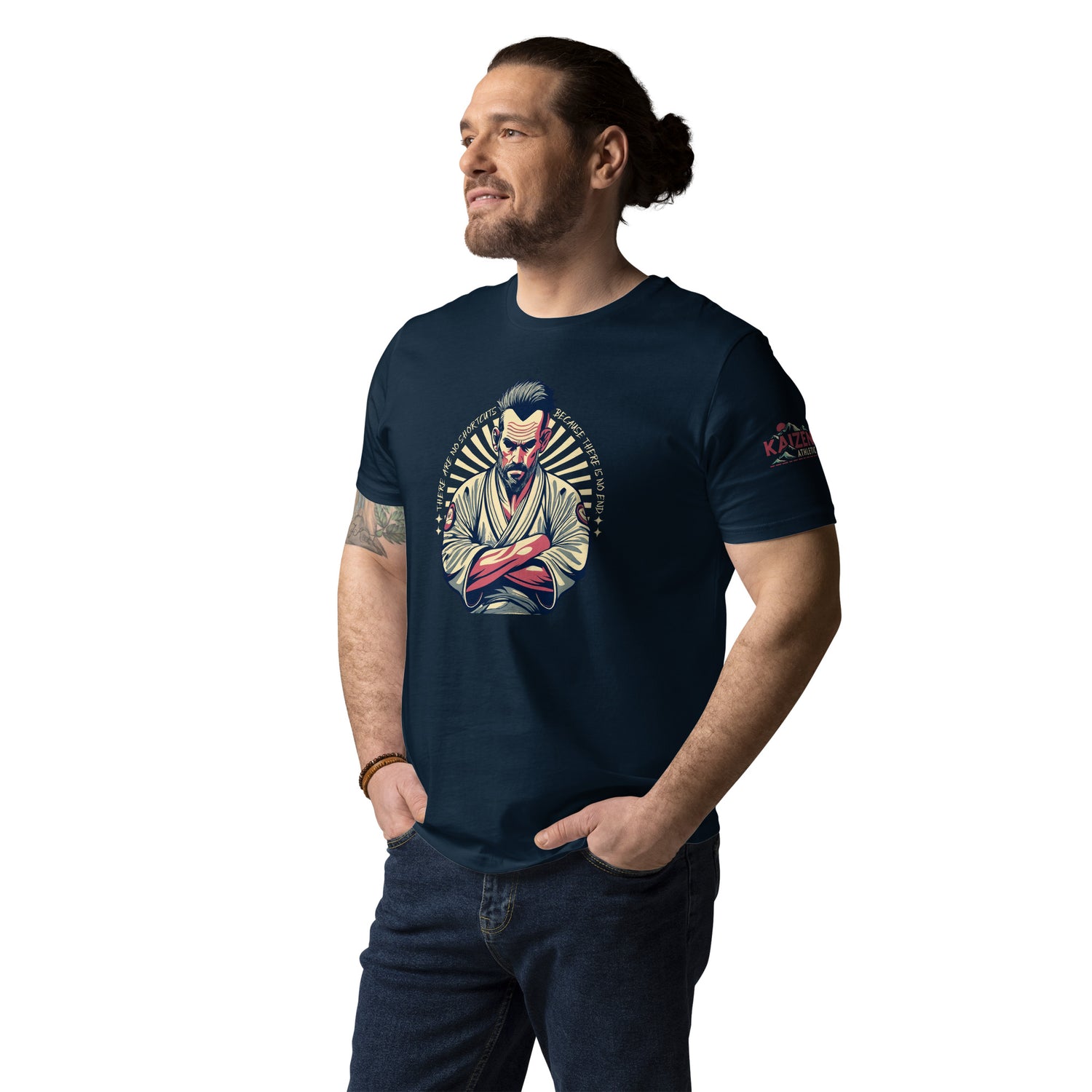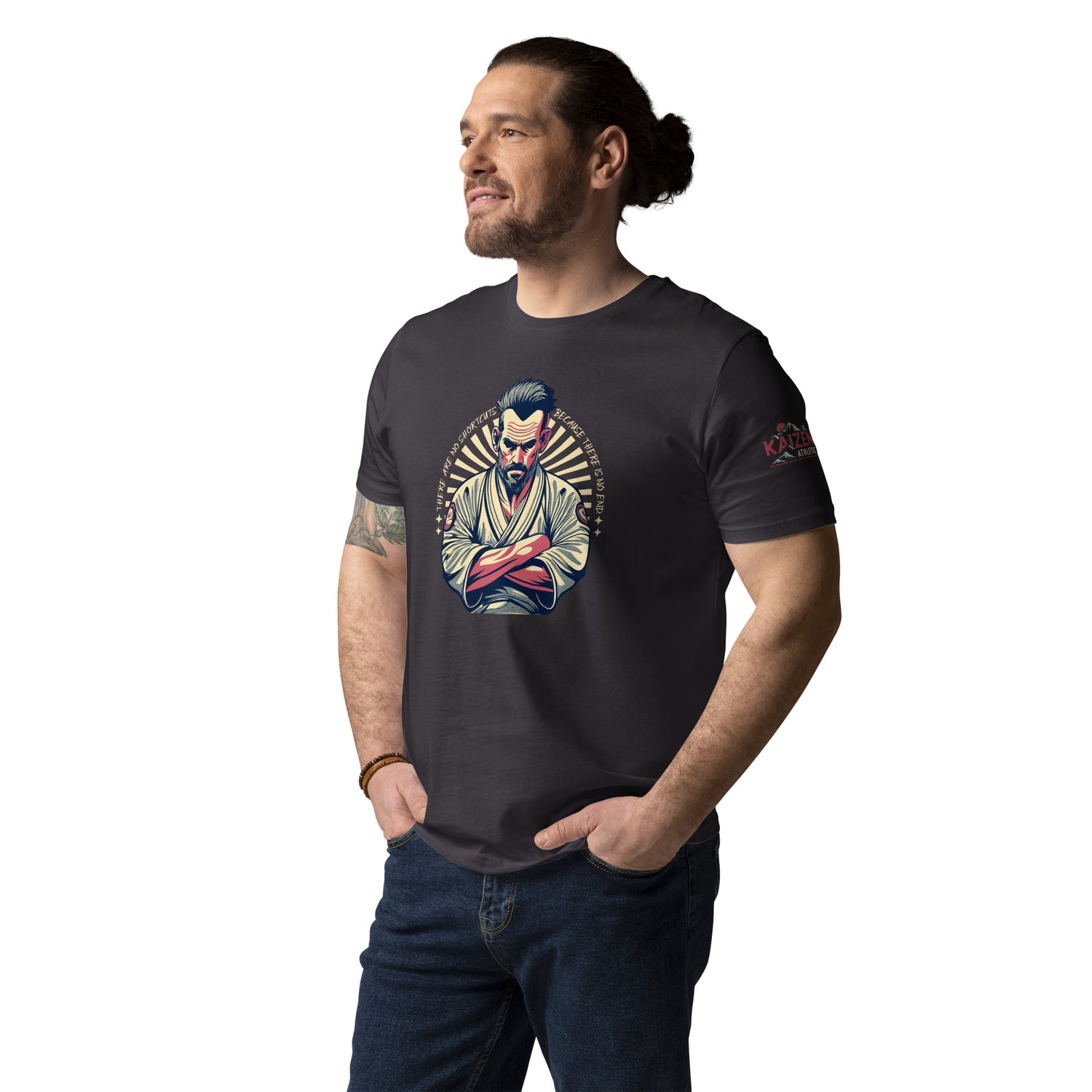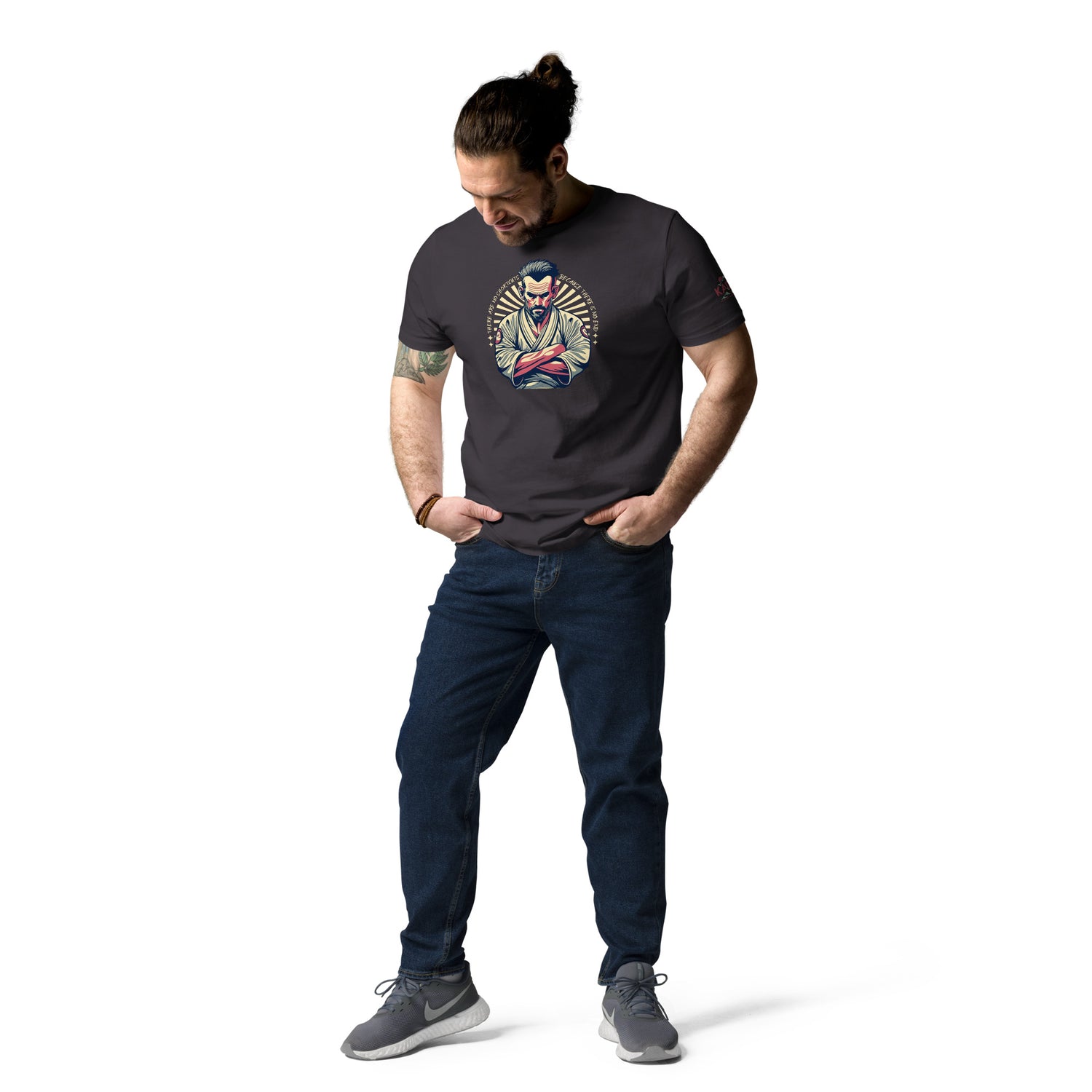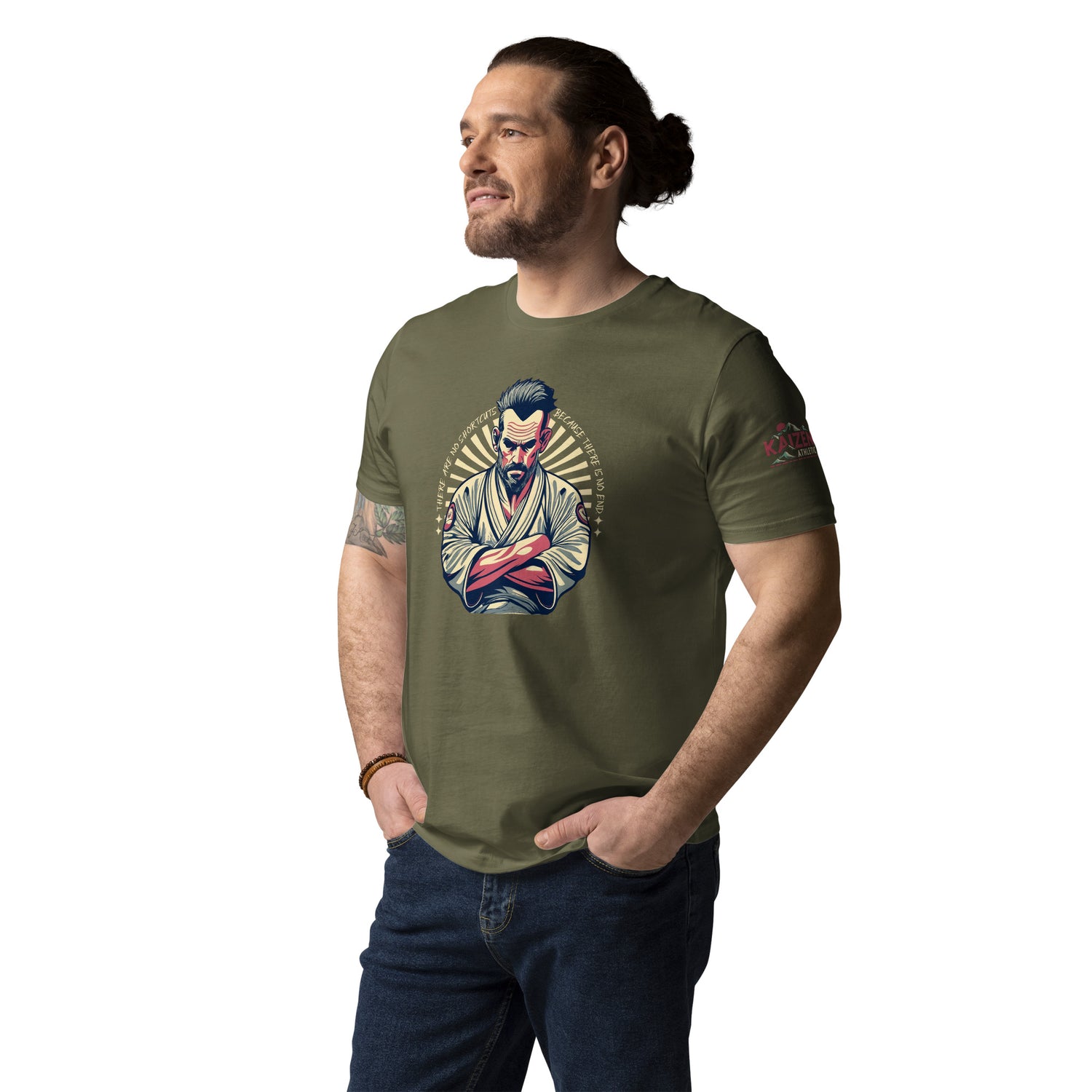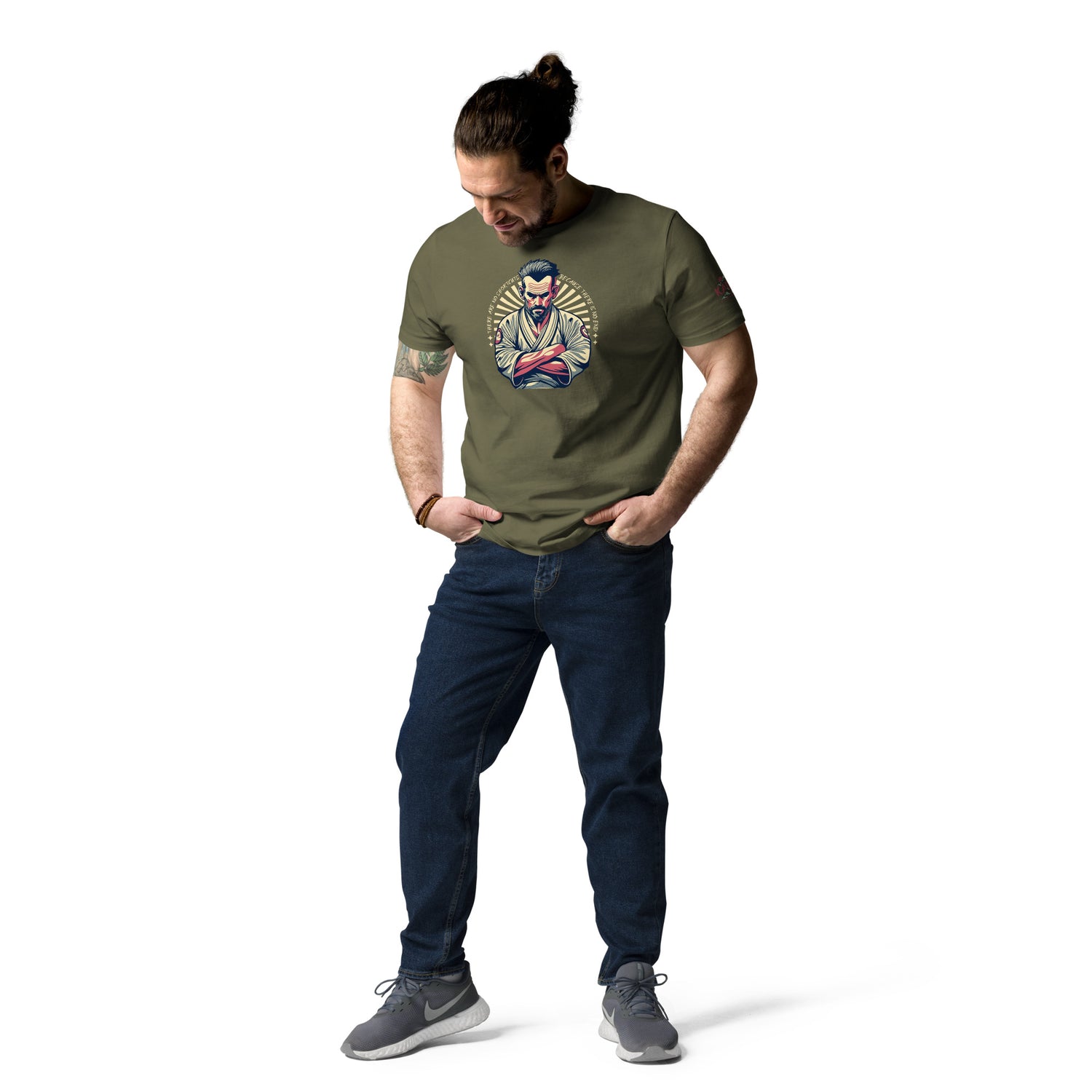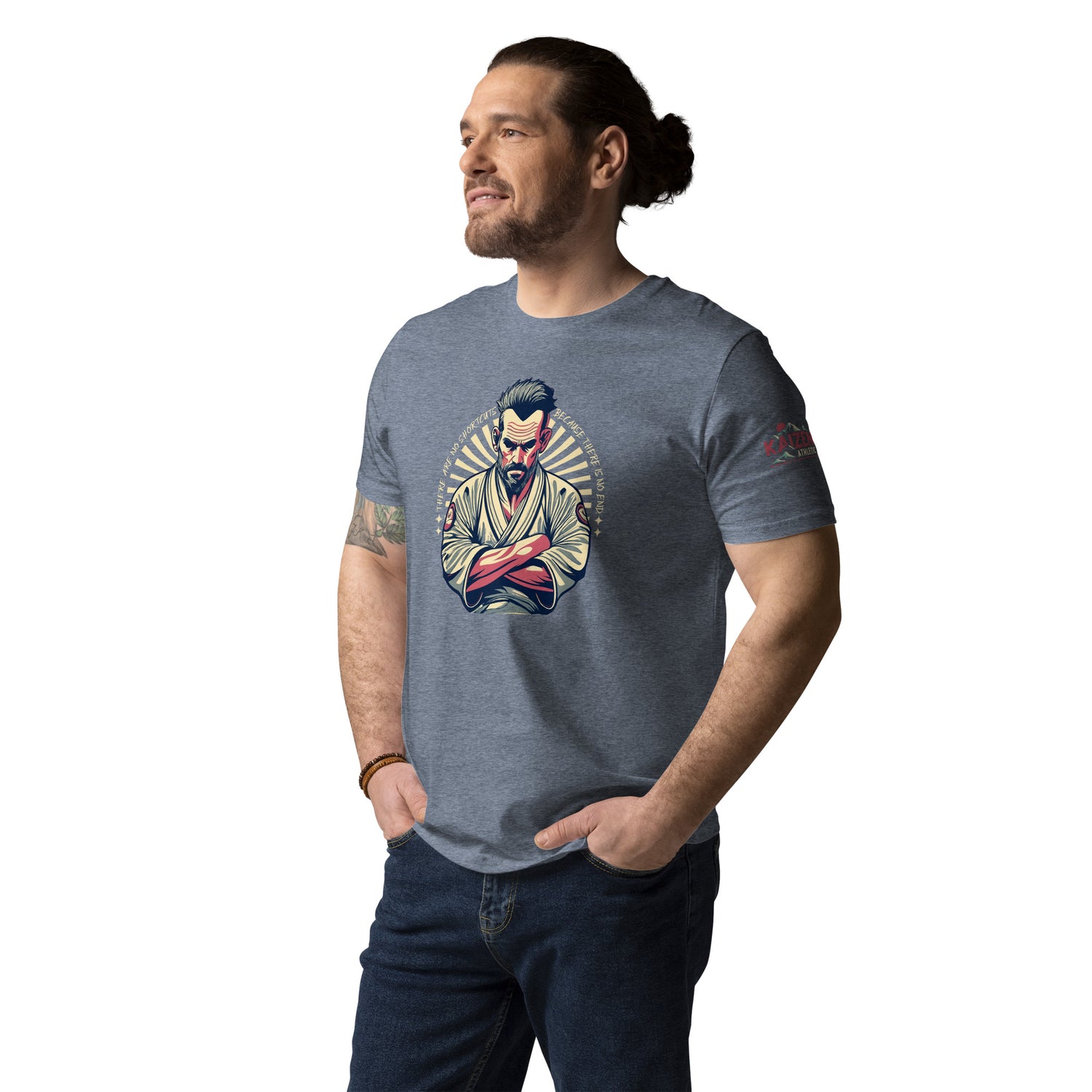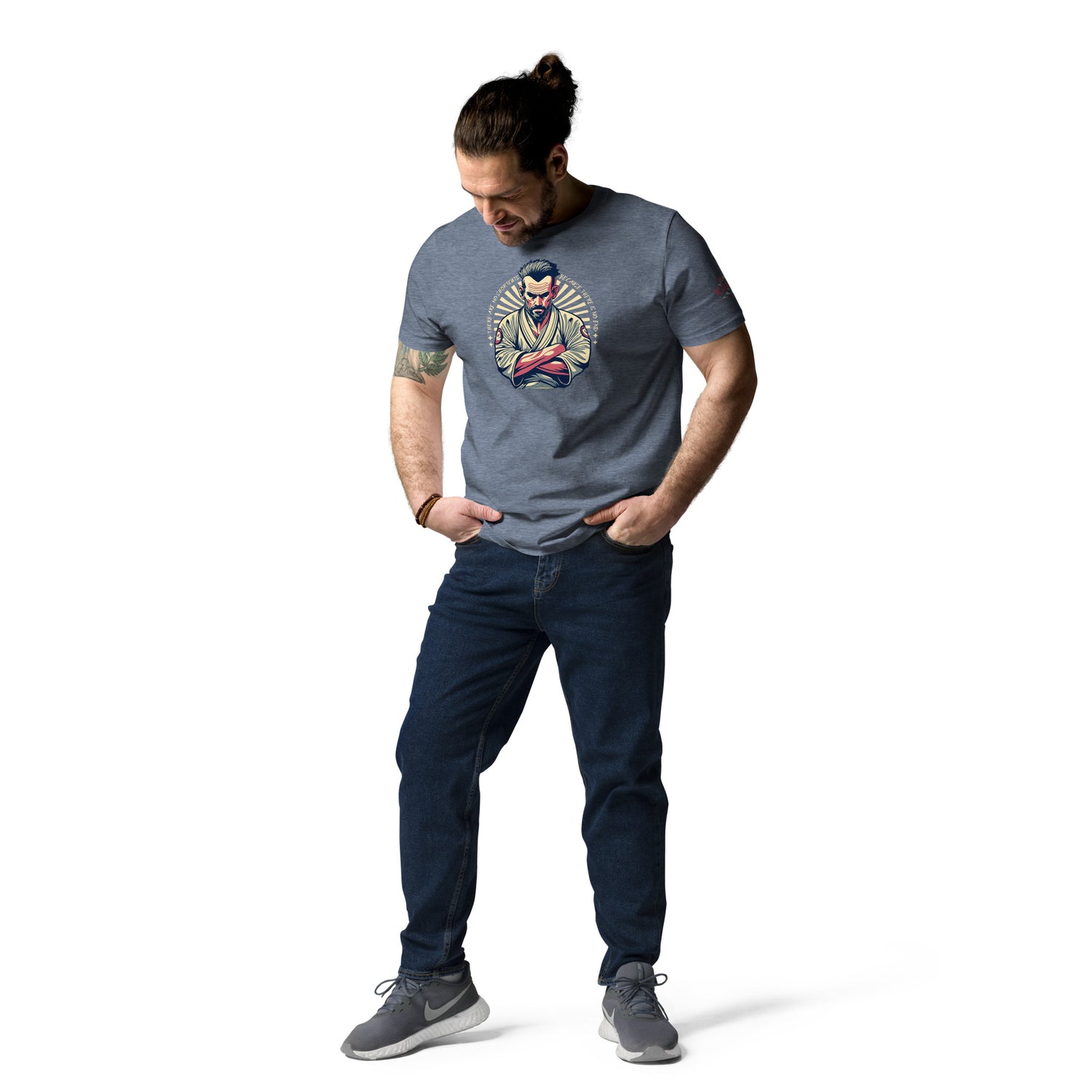 No Shortcuts Unisex Organic Cotton T-Shirt by Kaizen Athletic
Regular price
Sale price
$29.95 USD
The legendary 9th dan Judo master, Kyuzo Mifune, left us with a timeless piece of wisdom: "There are no shortcuts because there is no end." These words resonate deeply when we contemplate the vast and intricate world of martial arts.
Despite all the degrees and ranks given out in the martial arts, it's essential to grasp that this path is not one that can ever be truly "perfected." It defies such a notion because it is a perpetual journey, a continuous voyage of refinement that encompasses both the honing of technique and the nurturing of one's inner self.
Much like a sculptor chiseling away at a block of marble, martial artists are continually refining their skills and shaping their character. There is no ultimate destination with a ribbon to cross; instead, it's a lifelong expedition. It's about embracing the process, not fixating on an unattainable endpoint.
In martial arts, just as in any meaningful pursuit, shortcuts might appear to offer a quick fix, a way to skip ahead. However, the truth is quite the opposite. Success in martial arts, like any other domain, is not granted through shortcuts but is built upon the solid foundation of hard work, unwavering determination, and an indomitable spirit.
Picture a martial artist tirelessly perfecting their techniques, sparring, and meditating, or a chef toiling over a simmering pot, carefully balancing flavors, and meticulously crafting a culinary masterpiece. In both cases, the path to greatness is paved with dedication and grit.
So, remember Kyuzo Mifune's insightful words as you embark on your own journey, be it in martial arts or any other pursuit. Recognize that the beauty lies in the journey itself, in the ceaseless quest for improvement, and in the sweat, determination, and sheer resilience that you invest along the way.
• 100% organic ring-spun cotton
• Fabric weight: 5.3 oz./yd.² (180 g/m²)
• Single jersey
• Medium fit
• Set-in sleeves
• 1 × 1 rib at collar
• Wide double-needle topstitch on the sleeves and bottom hems

The sizes correspond to a smaller size in the US market, so US customers should order a size up.
Size guide
| | | | |
| --- | --- | --- | --- |
|   | BODY LENGTH (inches) | CHEST WIDTH (inches) | SLEEVE LENGTH (inches) |
| S | 27 ¼ | 19 ¼ | 8 ⅛ |
| M | 28 ¼ | 20 ½ | 8 ½ |
| L | 29 ⅛ | 21 ¾ | 8 ⅞ |
| XL | 29 ⅞ | 22 ¾ | 8 ⅞ |
| 2XL | 30 ¾ | 24 | 9 ¼ |
| 3XL | 31 ½ | 25 ¼ | 9 ⅝ |
| 4XL | 32 ¼ | 27 ¼ | 9 ⅝ |
| 5XL | 33 | 29 ⅛ | 9 ¾ |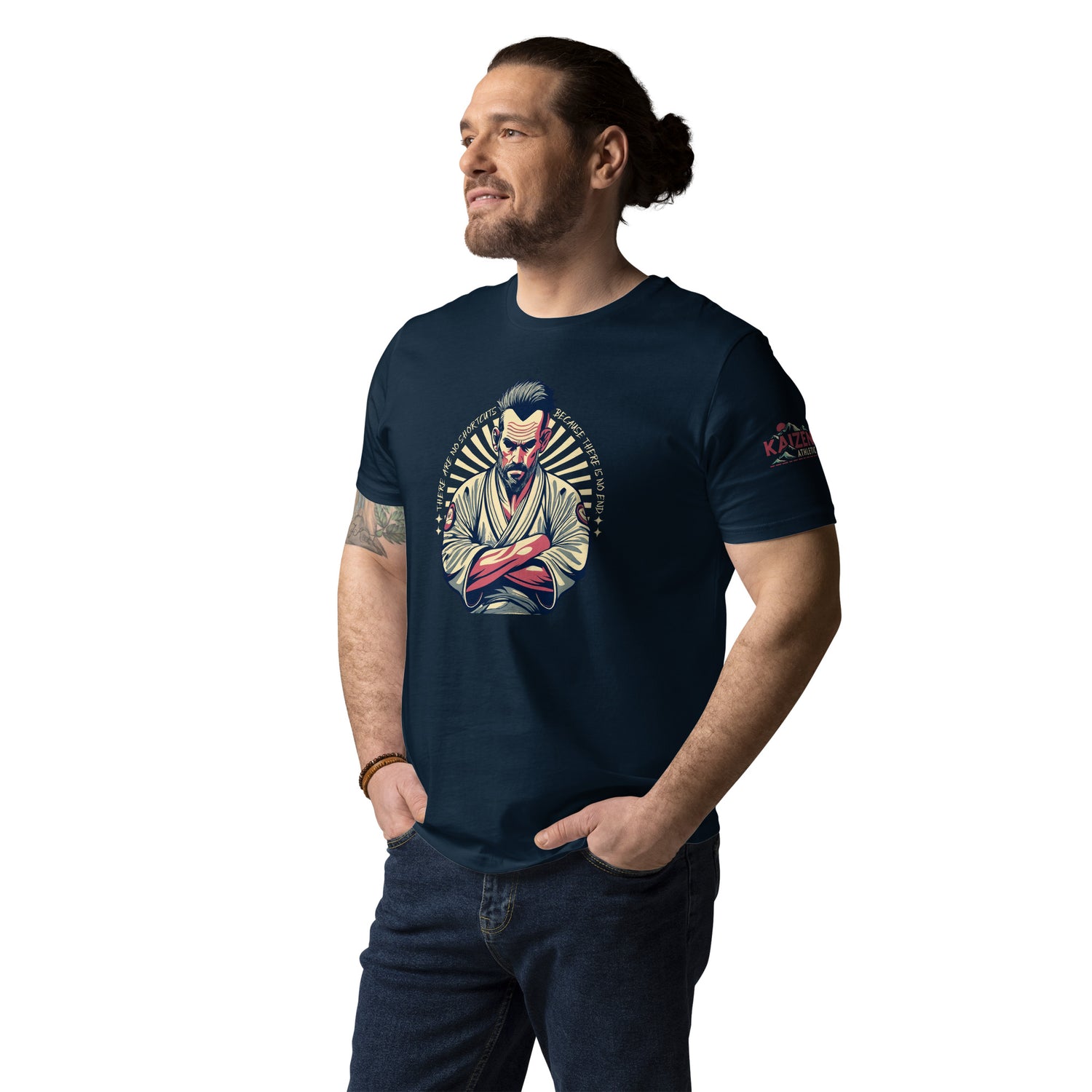 No Shortcuts Unisex Organic Cotton T-Shirt by Kaizen Athletic
Regular price
Sale price
$29.95 USD