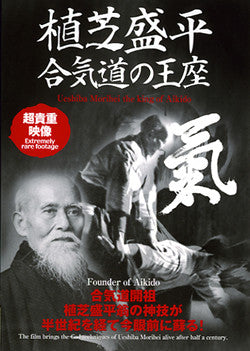 Morihei Ueshiba the King of Aikido DVD
Regular price
$59.00 USD
Sale price
$39.95 USD
THIS IS A SPECIAL ORDER ITEM
These items can take approximately 1-2 weeks to arrive here before they are ready to be shipped out by the selected courier service. Special order items are not eligible for return or exchange under any circumstances. Please review product details carefully before adding these items to your shopping cart.
Please Note: If you place an order for other items, they will be held and shipped together with the special order item when it is available. Alternatively you can place separate orders so your regular items will be shipped sooner.
The film brings the techniques of Ueshiba Morihei alive after half a century.
The film brings the techniques of Ueshiba Morihei alive after half a century.
Extremely rare film footage produced in 1956 documenting the Aikido Founder Ueshiba Morihei at the age of 77 and focusing on his God techniques and spirits
Vivid and convincing documentary film of the Founder's life and techniques
In the film………. Already reached the highest level―the God of Aikido―the Founder explained the Way of Aiki and taught his techniques to senior students of the next generation.
Must-watch for all practitioners, aficionados and enthusiasts of Budo and Bujutsu!
Real figure of the all-time great martial artist who, in life, synchronized the God and humans as well as the techniques and the mind with high standards
Scene 1 Praying at Kashima Shrine
Scene 2 Watching training of Saito Morihiro and others
Scene 3 Demonstration of Saito Morihiro
Scene 4 Demonstration of Morihei Ueshiba
Scene 5 Name plates of powerhouse senior students
Scene 6 Lecturing by Morihei Ueshiba
Scene 7 Mr. and Mrs. Ueshiba Morihei in relaxation Very rare film footage of the
couple
Scene 8 O-Sensei in the midst of desperate struggle to reach the level of the God
Valuable shot of O-Sensei in pursuit of excellence
Scene 9 Striking against a timber with short spear
Scene 10 Striking with a wooden sword together with the senior student
Saito Morihiro, practicing like Jigen-ryu style.
Scene 11 Abrupt attacking the O-Sensei reading in his study room
……….No moment to spare
Scene 12 Midnight training at Atago Shrine.
Testing techniques of Ueshiba Kisshomaru in his youth,
second doshu, using live swords
Language: Japanese 
Run time: 25 min.
ouz1d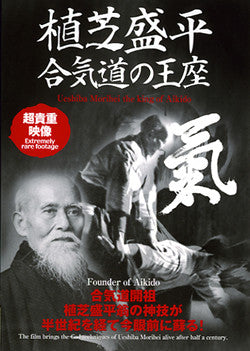 Morihei Ueshiba the King of Aikido DVD
Regular price
$59.00 USD
Sale price
$39.95 USD