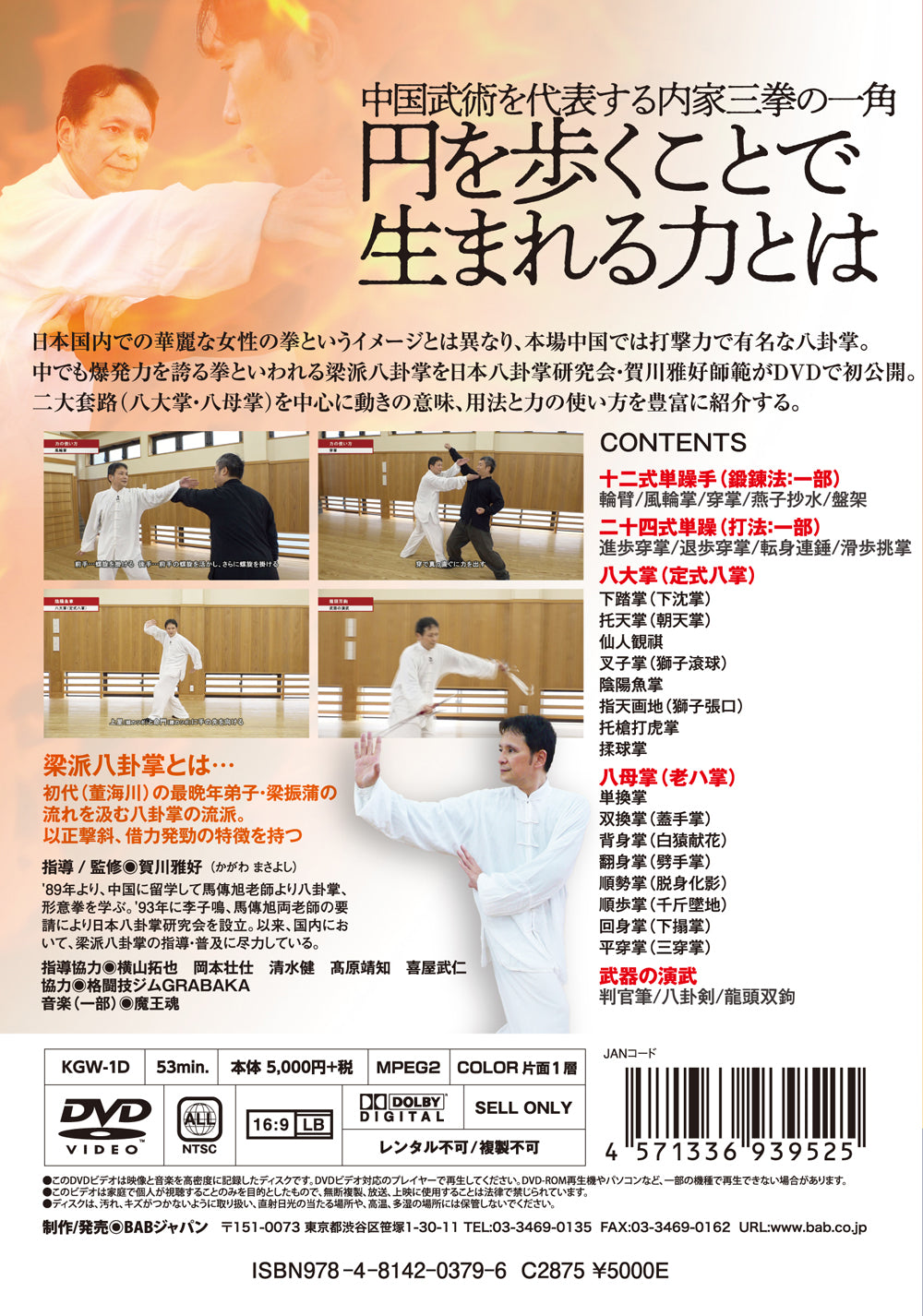 Liang Style Baguazhang Vol 1 DVD by Masayoshi Kagawa
Regular price
$59.95 USD
Sale price
$39.95 USD
THIS IS A SPECIAL ORDER ITEM
These items can take approximately 1-2 weeks to arrive here before they are ready to be shipped out by the selected courier service. Special order items are not eligible for return or exchange under any circumstances. Please review product details carefully before adding these items to your shopping cart.
Please Note: If you place an order for other items, they will be held and shipped together with the special order item when it is available. Alternatively you can place separate orders so your regular items will be shipped sooner.
Baguazhang is a well-known Chinese martial art called Neijia Sanken along with Taijutsu and Xing Yi Quan.

The shape of the hand is basically "palm" instead of "fist"
The practice method of walking around a circle is well known.
This time, Professor Masayoshi Kagawa, the representative of the Japan Baguazhang Study Group, will explain the actual situation for the first time on DVD.

Mr. Kagawa studied abroad in China and was with the influential master, Asahi Maden (the fourth messenger of Baguazhang), who represents Beijing.
An influential person who was taught by the Beijing Municipal Martial Arts Association adviser, Roshi Roshi (the third messenger of Baguazhang), who is a teacher of Roshi Ma.

The teaching is "a fist boasting explosive power" that is a bit different from the image of "a brilliant feminine fist".

In this DVD, there are two main ways to acquire that power.

・ Baguazhang (formal eight palms)… Eight postures and running areas (training of the body and power of Baguazhang)
・ Baguazhang (Old Ha)… Eight attacks and running area (Training of Baguazhang skills)
Language: Japanese
Run time: 53 min.
kgw1d
Liang Style Baguazhang Vol 1 DVD by Masayoshi Kagawa
Regular price
$59.95 USD
Sale price
$39.95 USD