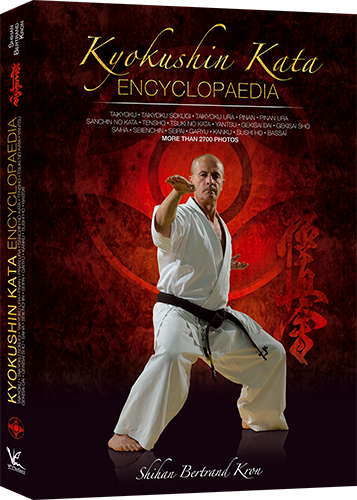 Kyokushin Karate Kata Encyclopedia Book by Bertrand Kron (Hardcover)
Regular price
$59.95 USD
Sale price
$49.95 USD
Bertrand Kron discovered Kyokushin in 1968; 45 years later, he is one of the very few «Shihan» of this style, respected all over the planet. Bertrand followed a very open education from various training courses throughout the world. International referee, he passed his 4th Dan during the legendary camp of Mitsumine in Japan before the World Kyokushin élite, and got his 6th Dan in 2008 from the hands of a Kyokushin legend in Europe - Shihan Loek Hollander, and a 7th federal FFK Dan!

Sport Manager at the Board of Directors of the Kyokushin World Federation, second degree state certified teacher, 'Head Instructor' at the biggest international camps, he multiplies his interventions in Italy, Belgium, Switzerland, Holland, France, Tunisia, Canada, Israel...

In Kata, he won almost all national Kyokushin meetings, and was a finalist of this style in Europe Championships many times. Bunkai Specialist, he carried out personal research on this topic for more than 30 years. He has shared his knowledge in his courses but also in many technical DVDs, usually with the help of his working partner Shihan Jérôme de Timmerman. After 30 years of Kyokushin, Shihan Jérôme de Timmerman keeps on saying that his meeting with Shihan Bertrand Kron opened up new spheres: he passed his 5th Dan and got the title of Shihan in 2013 in Papendal.

After several titles of champion of France of this style, he now works to develop Kyokushin as a national coach and international 'Head Instructor'. So these two French, who are ones of those with the highest technical mastery level in their country, present all the Kyokushin Katas in this book, detailed with an extraordinary attention to the biomechanics, which makes this book a real Bible for the one practicing throughout their Kyokushin way.

But if this book is by itself a true «Bible» of Kyokushin Katas, it is ultimately just the foundation of a comprehensive encyclopedia made of different volumes of a collection that deals with each technique, each exercise, and each subject, which constitutes a set of progression from white belt to the highest grades of this style.

Language: English
Length: 272 pages, more than 2,700 photos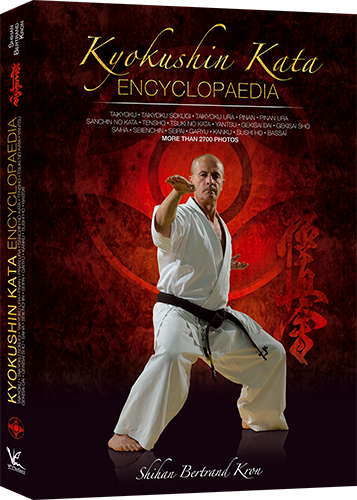 Kyokushin Karate Kata Encyclopedia Book by Bertrand Kron (Hardcover)
Regular price
$59.95 USD
Sale price
$49.95 USD
Kata Kihon
Excellent Kyokushin Kata Book Highly recommend it !!!