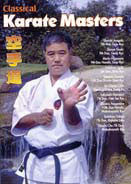 Classical Karate Masters DVD
Regular price
$49.00 USD
Sale price
$39.95 USD
Novice and expert alike will be captivated by the powerful technical demonstrations interwoven with a fascinating explanation of the history of karate and the development of its major styles. Painstakingly documented with classical film footage and rare photographic images from the nineteenth and early twentieth century, this is undeniably the most complete and accurate work of its type ever presented.

The traditional Japanese and Okinawan background music is irresistible. The skillful use of computer generated animation, digital multi-track stereo, and advanced photo enhancement, stunning. This is a product that appeals to viewers of all levels of experience - a program that triumphs without compromise.

Produced by the widely acclaimed Tsunami Production Team in conjunction with an elite group of the world's most senior masters, this video presentation of traditional karate is without equal.

Includes demonstrations by Shinyu Gushi, 9th Dan Uechi Ryu; Morio Higaonna, 9th Dan Hanshi Goju Ryu; Hideharu Igaki, 6th Dan Shito Ryu; Takehiro Konishi 10th Dan Shindio Jinen Ryu; Liu Chang I, Feeding Crane Gung Fu; Yukiyoshi Marutani 7th Dan Gen Sei Ryu; Toshishiro Oshiro, 7th Dan, Matsubayashi Ryu; Eihachi Ota, 7th Dan Matsubayashi Ryu; Kiyoshi Yamazaki,7th Dan Shindo Jinen Ryu; Shuichi Aragaki,9th Dan Goju Ryu; Shinpo Matayoshi, 10th Dan Matayoshi Ryu; Shoshin Nagamine, 10th Dan Matsubayashi Ryu.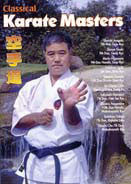 Classical Karate Masters DVD
Regular price
$49.00 USD
Sale price
$39.95 USD