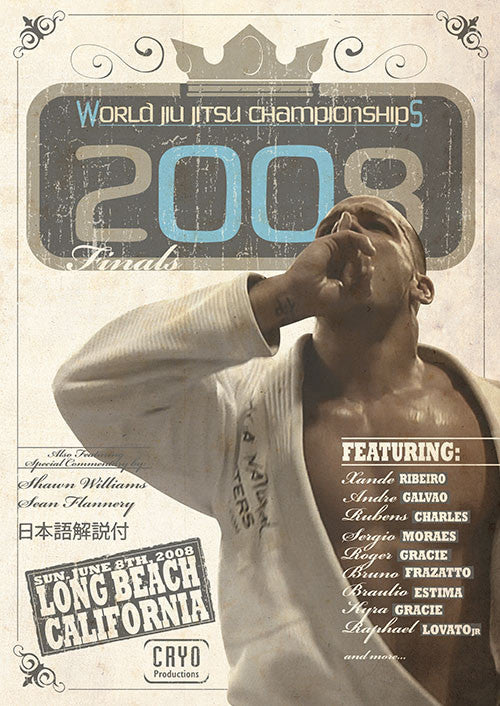 2008 Jiu-jitsu World Championships Finals DVD
Regular price
$49.00 USD
Sale price
$9.99 USD
The finals of the 2008 Jiu-jitsu World Championships includes the following fights:
Absolute Division 
Xande Ribeiro vs Roger Gracie
Men's Adult Finals Weight Divisions
Rooster: Caio Terra vs Yusuke Honma
Super Feather: Samuel Braga vs Dai Yoshioka
Feather: Rubens Charles vs Bruno Frazzato
Light: Celso Vinicius vs Lucas Lepri
Middle: Sergio Moraes vs Bill Cooper
Medium Heavy: Andre Galvao vs Braulio Estima
Heavy: Xande Ribeiro vs Alexandre Souza
Super Heavy: Antonio Braga Neto vs Rafael Lovato, Jr.
Ultra Heavy: Leonardo Leite vs Roger Gracie
Women's Adult Finals Weight Divisions
Super Feather: Mirian Cerqueira vs Takako Abe
Feather: Bianca Barreto vs Lauren Cousin
Light: Kyra Gracie vs Luana Alzuguir
Middle: Hannette Stack vs Fernanda Mazzelli
Medium: Ana Laura Cordeiro vs Penny Thomas
Heavy: Gabrielle Garcia vs Maria Do Carama Fernando Mazzelli
For the first time in BJJ Worlds history this release features professional play-by-play commentary by black belts Shawn Williams and Sean Flanery. Listening to their commentary will increase your understanding of the art while they break down the moves and strategies of the top competitors in the world. In addition to commentary, Shawn Williams gets on the mat and shows you in detail how to do some of the most exciting moves of the finals. This is a first in the BJJ world and will make this the most exciting and educational Worlds DVD ever!
Includes selectable English or Japanese commentary!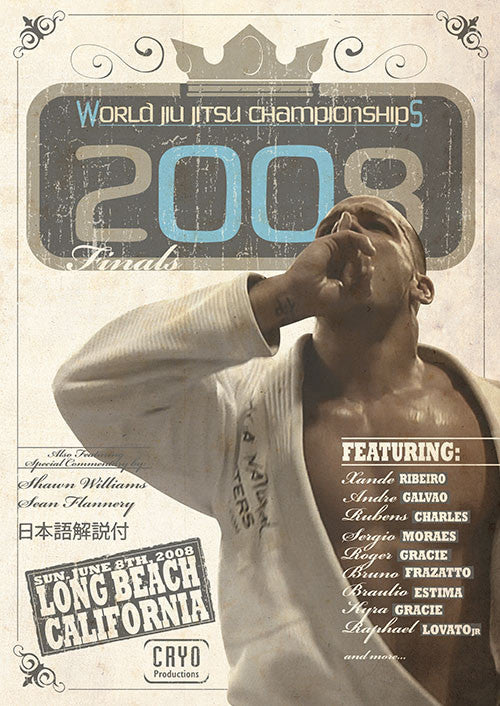 2008 Jiu-jitsu World Championships Finals DVD
Regular price
$49.00 USD
Sale price
$9.99 USD
Awesome DVD!
Awesome DVD! The level of jiu-jitsu is phenomenal year by year and the addition of the commentary to this DVD deserves celebration. I really hope to see the same quality in future events.
Awesome production
Awesome production on this DVD. It's nice to see BJJ events brought up to the level of any other pro sporting event. By that I mean professional commentary and not having to just hear the ambient crowd noises and random yelling from the sidelines. When I want to show my friends what BJJ is about this is the DVD I show them.
Hands down this is the best
Hands down this is the best Tournament DVD I've seen. Commentary by Shawn Williams and Sean Flanery is great. Would of liked to have best fights of tournament chapter.
Great dvd
Great dvd, I enjoyed the commentary! I would have preferred to see more matches leading to the finals as well as some brown belt matches. But overall awesome dvd...more female matches was an added bonus.
its good for people
I dont like the commentary, its good for people that dont know much about jiu jitsu but i like to just watch and feel the people chanting and claping and screaming without somebody telling me whats going on. but other than that i loved the dvd...cant wait to for a 2008 pan am no gi dvd